Guardian Well & Septic Inspection and Maintenance Services
Guardian Well & Septic is proud to offer our well and septic system inspections to homeowners, business owners and real estate agents throughout southeastern Wisconsin. All inspections are timely, unbiased, and detailed ensuring the assessment of your well or septic system and any requirements for maintenance are accurate and clearly outlined. Similar to a home inspection, well and septic inspections provide invaluable information about the current systems in place and the water quality on your property.
Septic System (POWTS) Inspections:
Guardian Well & Septic is a proud member of WOWRA (Wisconsin Onsite Water Recycling Association). WOWRA is a statewide organization of highly trained septic professionals who have demonstrated a knowledge of the proper techniques for evaluating the condition of a septic system also know as a Private Onsite Wastewater Treatment System (POWTS). WOWRA is the only organization currently working directly with the state of Wisconsin to establish uniform guidelines on how to properly evaluate septic systems. Since the state of Wisconsin currently does not provide procedures or criteria for conducting property transfer septic evaluations, far too many inspectors do not follow any set guidelines at all. This often leads to unnecessary expenses for homeowners or home buyers. Septic systems that are improperly failed by inexperienced inspectors can cost a homeowner thousands of dollars when a simple repair could restore the functionality of the system. On the flip side, an inexperienced inspector can easily miss important clues and warning signs that could result in high expenses for a homeowner. WOWRA-certified POWTS evaluators work with a comprehensive, uniform checklist that will both inform and educate the customer. This includes a thorough evaluation of all visible components to determine both functionality and overall condition. There is a wide variety of systems installed throughout southeastern Wisconsin, and your inspector will focus on and discuss the specific system you have in detail.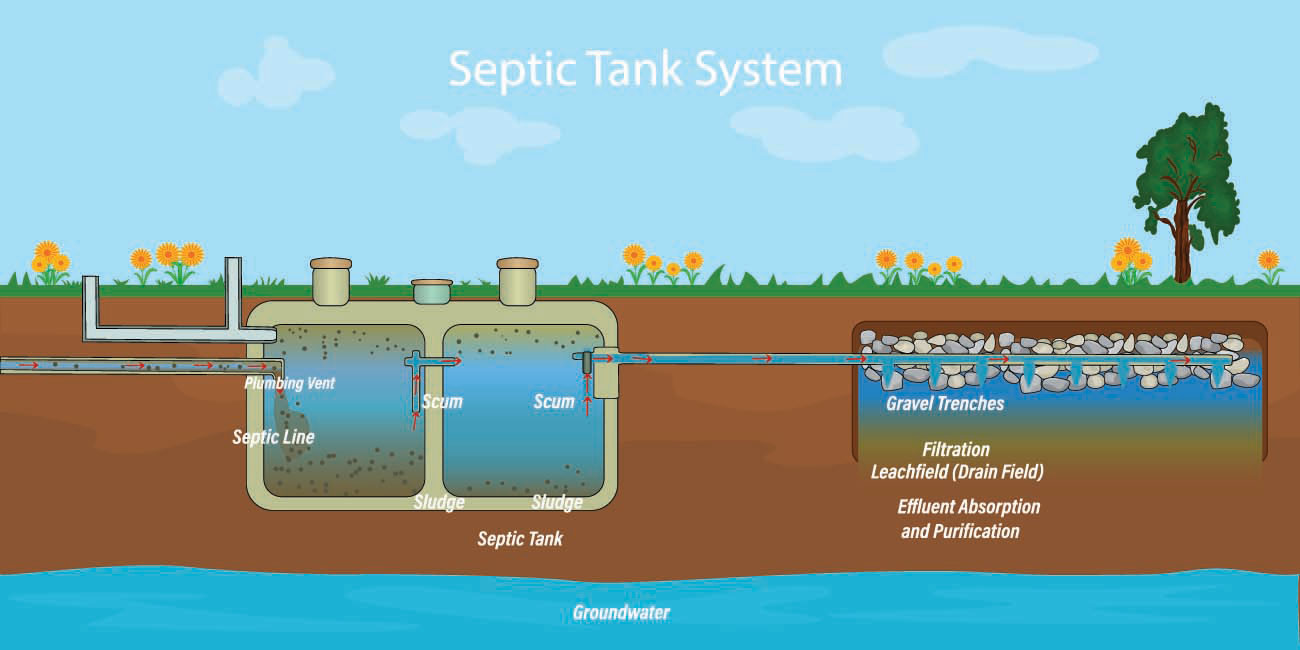 Septic System (POWTS) Maintenance:
Wisconsin Administrative Code SPS 383.54 requires that all septic systems be maintained. This requires an inspection at least every three years. You will receive a postcard from your county when this maintenance is due. It does NOT mean the tank needs to be pumped every three years. The primary purpose of this type of inspection is to measure accumulated solids in the tank. Once the sludge level exceeds 1/3 of the tank capacity, the tank will need to be pumped. Failing septic systems are expensive to repair or replace, and improper maintenance by homeowners is a common cause of early system failure. There is a small cost for preventative maintenance compared to a potential large cost for system replacement. The replacement of a failing septic system can cost thousands of dollars. Compare that to spending roughly a hundred dollars every three years to have your septic system routinely inspected. Proper maintenance may even extend the life of your system. As a licensed POWTS Inspector and Maintainer, Guardian Well & Septic can perform this scheduled maintenance for you.

Well Inspections:
By state law, if a well and pressure system inspection occurs as part of a real estate transaction, only a licensed water well driller or licensed pump installer may make a statement, for compensation, at time of property transfer regarding the location, compliance, condition, capacity, or performance of a well and pressure system. The inspector must complete DNR Inspection Form #3300-221 to report their results and provide a completed Inspection Form and water sample test results for each well to the person who requested the inspection. Guardian Well & Septic is a licensed pump installer. Our licensed well inspection professional will conduct a visual inspection of the well and pressure system and look for specific features that do not comply with the state's well regulations in NR 812, Wisconsin Administrative Code. Wells are generally required to meet the regulations in effect at the time the well was constructed or installed, but there are some exceptions, so not all wells are "grandfathered". The inspector will test functionality and identify any visible and known noncompliant features of the well and pressure system. Some features - such as well casing depth – and some possible contaminant sources are buried and cannot be seen without opening the well, excavating, or conducting a records search. NOTE: A water test is also required for all property transfers.
Well Water Testing:
With every well inspection, we provide a comprehensive water quality test as required by the State of Wisconsin. Water is assessed for potability and safety through tests measuring for contaminants such as nitrates, arsenic, and harmful coliform bacteria (including E. coli). Guardian Well & Septic also performs standalone water tests for homeowners who do not require a full well inspection. This includes an extensive list of potential contaminants. All water samples are sent to a lab certified by the State of Wisconsin with results delivered within a few days. While Guardian Well & Septic does not offer water purification or chlorination services, we can recommend reliable providers to ensure your water is safe for your family.
During the Inspection:
During our well or septic system inspection, the homeowner, business owner or real estate agent is not required to be present, but is encouraged. Note that our inspector will be required to enter your home during the inspection and the process typically takes anywhere from 1-2 hours to ensure accurate and detailed reporting. For septic system inspections, homeowners should NOT have your septic system pumped before the inspection – it is critical to see the state of the system prior to pumping. Guardian Well & Septic can provide a septic pumping service, or we can work with a pumper of your choosing provided they are able to correspond with the time of our scheduled inspection.
Useful Information:
Guardian Well & Septic is your trusted provider for well and septic inspections within the southeastern Wisconsin counties of Dodge, Jefferson, Kenosha, Milwaukee, Ozaukee, Racine, Walworth, Washington, and Waukesha. If you are looking to buy or sell a home or just need your well and septic systems tested for piece-of-mind, Contact Us today!