Discover the Benefits of Choosing an Aerobic Septic System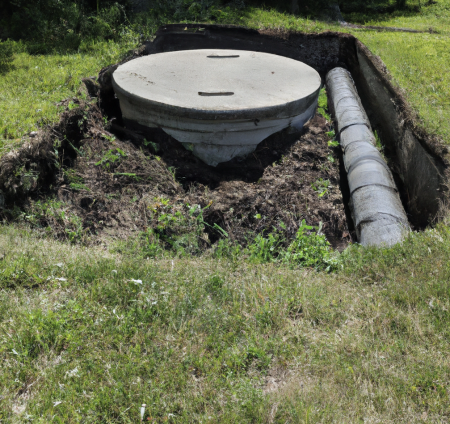 Looking for a way to save money and improve your home's wastewater management? Consider switching to an aerobic septic system! Unlike traditional septic systems, which can be expensive to maintain and prone to backups, aerobic systems use specialized enzymes to break down waste and reduce your maintenance costs. Plus, they're better for your family's health and the environment. In this article, we'll explain how aerobic systems work and the benefits they can bring for homeowners.
Meet The Johnson's
Meet the Johnson's, a southeastern Wisconsin family of four. The Johnsons had been relying on an old, traditional septic system to manage their wastewater for years. Every so often, they had to call in a technician to pump out their septic tank. To make matters worse, their backyard often smelled foul, and they were concerned about the impact of their system on the environment.
One day, the Johnsons heard about the benefits of an aerobic septic system from a neighbor. They were intrigued by the idea of a system that required less maintenance and promised longer-term savings. After doing some research, they decided to make the switch and called Guardian Well and Septic.
They realized they had made a smart financial decision. Their new aerobic system required less maintenance and had a much longer lifespan than their old septic system. They didn't have to worry about scheduling costly pump-outs every few years, and their backyard smelled fresh and clean. Plus, they felt good knowing they were doing their part to reduce their environmental impact.
Increased System Life Span of Aerobic Septic Systems
Here is what the Johnsons realized. An aerobic septic system can have a much longer life compared to the traditional septic system. Whereas the traditional systems have an average lifespan of 15-20 years depending on the output, aerobic systems may last up to 30 years or more with proper maintenance.
Traditional septic systems typically require frequent pumping and repairs, while aerobic systems require less maintenance and can save homeowners thousands of dollars over the system's lifetime.
Cheaper Running Expenses
After the Johnsons switched to an aerobic septic system, they noticed a big difference in their monthly bills. Unlike traditional septic systems that require electricity to operate, aerobic systems utilize oxygen molecules to break down waste. That means the Johnsons no longer have to worry about costly electrical bills associated with their wastewater solution. With the money they're saving on running costs, the Johnsons have been able to invest in other home upgrades they've been putting off for years.
Aerobic septic systems are easy to maintain, and they are also much cheaper to run. Since the aerobic process utilizes oxygen molecules to break down the waste, it does not require electricity. This eliminates most of the running costs associated with operating an aerobic system, making them much more cost efficient in the long run.
Changing Habits
Not only did the Johnson family have a new aerobic septic system installed, but they changed their habits and stopped flushing non-biodegradable items down the toilet and reduced their water usage. They were able to teach their kids about the importance of taking care of the environment, and the whole family felt good about making a positive impact.
In the end, switching to an aerobic septic system not only saved the Johnsons money, but it also helped them make a positive impact on the environment while avoiding the stress and inconvenience of constant maintenance and pumping. We'll dive more into the benefits of an aerobic septic system next month!